How It Works?
At ClayDesk, work is conducted under close supervision and monitoring of licensed Attorney of respective jurisdiction. For instance, for a US based law firm, ClayDesk would depute full time attorneys as part of the project management team throughout the case. Being aware of potential issues such as unauthorized practice of law, duty to supervise, attorney-client privilege, confidentiality, client conflicts of interest, data & personnel security, ClayDesk is committed to provide services in an utmost professional manner – giving you  peace of mind along with substantial cost savings.
The ClayDesk technology platform takes advantage of the scale and capacity of Microsoft Azure and Amazon Web Services, storing your data on some of the most secure data centers in the United States. As a Microsoft Cloud Partner, ClayDesk can also leverage upon Microsoft Azure to provide hosting solutions.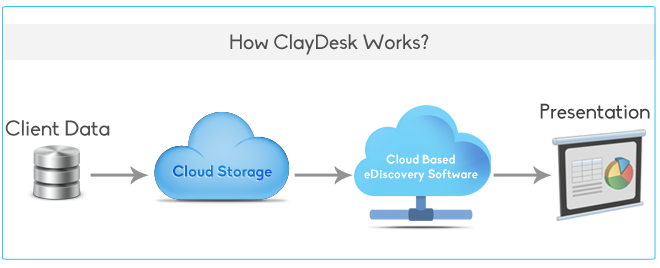 Visit the ClayDesk e-Discovery Blog for latest insights into e-Discovery matters.
Your Data, Our Value
We are the only company to offer a complete portfolio of services and technologies that span all phases of the Electronic Discovery Reference Model (EDRM). We integrate services and technologies to support you from the beginning of the discovery process to the end. We are the only provider that offers a full suite of integrated services with on-site, onshore, and offshore services
Our range
Our range of integrated services offers you flexible e-discovery options – we can help you choose just the services you need or you can take advantage of our end-to-end solution that can be delivered with our flat "All-in" pricing solution. Our project management approach – which focuses on consultative planning, disciplined execution, and repeatable results – enables us to deliver a transparent, consistent, high-quality solution
How we do e-Discovery
A holistic approach to strategy, services, and technology to ensure efficiency, cost control, and defensibility
Depth of domain expertise and knowledgeable employees
A simple yet integrated discovery process that is more defensible and transparent
The ability to scale for greater efficiency and lower costs
ClayDesk's e-discovery services are trusted by top law firms and corporations, including nine of the top 10 global law firms, 32 of the top 50 Am Law firms, and numerous Fortune 100 companies. Our clients trust us because our services are: